Let me tell you why you're here.


You're here because you know something.
What you know you can't explain, but you

feel

it.
You've felt it your entire life, that there's

something wrong

with the world.
You don't know what it is, but

it's there

, like a splinter in your mind, driving you mad.
It is this feeling that has brought you to me.

Do you know what I'm talking about?
Do you want to know what it is?

But

I

can only show

you the door.

You're the one that has to walk through it.




You have to see it for yourself

.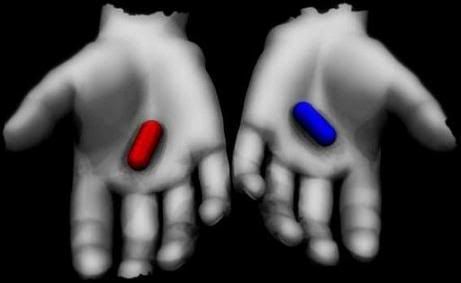 This is your last chance. After this, there is no turning back.

You take the blue pill - You leave this page, the story ends, you wake up in your bed and believe whatever you want to believe.

You take the red pill - You stay in Wonderland and I show you how deep the rabbit-hole goes.
Just contact me.


And for The Others:

I know you're out there. I can feel you now.
I know that you're afraid... you're afraid of us.
You're afraid of change.
I don't know the future. I didn't come here to tell you how this is going to end.
I came here to tell you how it's going to begin.
I'm going to post this entry, and then I'm going to show these people what you don't want them to see.
I'm going to show them a world without you.
A world without rules and controls, without borders or boundaries.
A world where anything is possible.
Where we go from there is a choice I leave to you.
Edit:
Blue Or Red Pill? You Choose
It's interactive.
Take a look, if you dare.
~Lyla~